The new normal for businesses for 2020 and the foreseeable future, has been transformed by COVID-19. Business and organizational leaders may need expert support to establish strategic planning processes and additional employee practices that align with the new reality.
Organizational Agility –Service Partners
Small Businesses and organizations must become agile entities that can respond quickly to unexpected factors that significantly impact the welfare of the business. You can add this element to your business structure by partnering with service providers that can streamline key business functions, simplify lines of  communication, deliver prompt responses, and provide insightful strategies that move your business forward. In other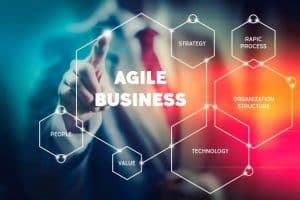 words, organizational agility is achieved by having access to information, resources, support, technology and by utilizing strategic planning. Now more than ever, your business must embrace the certainty of uncertainty as part of the "new normal". Your service partners should become part of your task force or emergency response team to help you formulate a strategic response to external and internal factors that affect your business.
Organizational Agility – Operational Transition
Organizational agility can also be defined as an entity's ability to quickly pivot to create a new revenue stream or customer base to improve profits. For example, distilleries that experienced major loss in profits trying to sell their primary products, shifted their business operations to produce hand sanitizer in response to high customer demand. Some bakeries and restaurants temporarily became neighborhood store fronts, selling cooking ingredients or pre-packaged specialty food products manufactured in-house. Employers need to ask themselves , "Do I have a plan for tapping into a new customer base or product line should the need arise"?  If the answer is no, I would encourage you to consider creating a "task force" with your service providers to explore options that could help your business to become operationally agile in the face of economic uncertainty.
Employee/Employer Partnerships Redefined
It can be said that COVID-19 highlighted the true character of many of your employees and you discovered that, more often than not, that your employees are committed to you and the customers they serve.  Business leaders have always known that their employees were their most valuable asset. The on-going crisis will require employers to continue to flex the leadership muscles of listening, reflecting, accommodating, and achieving consensus to rebuild their workplace teams and establish productive operations.
Listening – Employers must be willing to listen to the concerns of the workers as they contemplate returning to the workplace. This can be accomplished during one-on-one discussions or through a formal survey process.
Reflecting – Employers will need to reflect on the feedback received from their employees and determine the action steps that should be taken to address and hopefully alleviate their concerns. The action steps should be part of a clearly defined plan that should explain….
What safety protocols and workplace pre-cautions will be added to safeguard the health of the employees.
When and how the employees will be scheduled to return to the workplace (i.e. staggered scheduling, workplace capacity per shift).
Which employees should be permitted to continue to work from home (if applicable).
On the other hand, employers may be forced to conclude that, for some employees, there will no satisfactory resolution to their concerns and the employees may decide not to return to work. This may occur if the individual has a CDC qualifying condition that puts them at a higher risk for contracting the virus. It may be wise, for business leaders to have a plan to replace lost headcount due to these and other issues.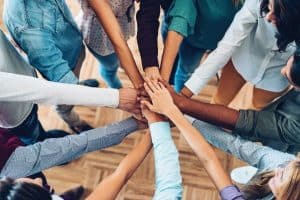 Accommodating – While employers have always been required to make reasonable workplace accommodations to comply with the Americans with Disability Act, this pandemic has pushed the boundaries of this law to include a list of individuals that may be at higher risk of contracting coronavirus when exposed to the workplace ( as deemed by the Center for Disease Control).
People who live in a nursing home or long-term care facility
People with chronic lung disease or moderate to severe asthma
People who have serious heart conditions
People who are immunocompromised

Many conditions can cause a person to be immunocompromised, including cancer treatment, smoking, bone marrow or organ transplantation, immune deficiencies, poorly controlled HIV or AIDS, and prolonged use of corticosteroids and other immune weakening medications

People with severe obesity (body mass index [BMI] of 40 or higher)
People with diabetes
People with chronic kidney disease undergoing dialysis
People with liver disease
Employers will need to determine a reasonable accommodation that will address the needs of this group and the time frame the accommodation can be maintained; which could…..
Restructuring job duties to allow for a work from home set-up.
Allowing the individual to have a temporary leave of absence (either paid or unpaid) during the initial phase of the re-opening.
Reassigning the individual to a position that requires minimal interaction with co-workers and/or customers.
Achieving Consensus – The concept of consensus (a general agreement) should not be construed as surrendering your authority as an employer but rather as the process of building a better employee/employer relationship fostered by the values of inclusion and shared commitment. Incorporating the employee's input, concerns and general welfare into the plans for reopening business operations will serve to minimize forced terminations or resignations. Employees will need to understand any changes the new work protocols will have on   performance expectations, job descriptions, bonus eligibility, and other compensation. Your employees still want to achieve success and move their careers forward. Employers need to communicate with their front line workers and supervisors to ensure there is a solid understanding and agreement on what will define success in the "New Normal" of 2020.
C & A Benefits Group, LLC  – We Stand Ready to Serve
At C & A Benefits Group, LLC , we are experts in benefits and payroll administration, human resources consulting, compliance training and leadership development. We are the agile, strategic, and service-focused professionals you need to…
help prepare your business or organization for the unexpected.
guide you through key strategic decisions that improve employee related processes.
establish legally compliant benefits and other HR programs.
provide cost-effective efficiencies and support that help you grow your business.
Web Link Resources
National Unemployment Statistics
https://www.bls.gov/news.release/pdf/empsit.pdf
Center for Disease Control and Prevention
https://www.cdc.gov/coronavirus/2019-ncov/need-extra-precautions/people-at-higher-risk.html